Are you thinking to learn ukulele but not sure why? What's making you think it about so much?
Well, we are here with the top 10 reasons to motivate you to start your musical journey with ukulele.
After reading this article, you will have 10 solid reasons to pursue your inner musical calling. Let's find out what makes ukuleles so cool.
Top 10 reasons why you should learn Ukulele
1.
Man, ukuleles don't break your bank account
If you want to explore a musical instrument but on a budget, you can consider ukulele. For getting decent guitars and piano, you need a decent budget too. For guitars, you need to have 400 to 500 dollars in your pocket.
For pianos, you will need 500 to 3000 plus dollars if you are going with an electric keyboard. You can get a great ukulele somewhere between 75 to 300 dollars. If you have got 50 dollars to buy your first ukulele, then we have good news for you. Many top ukulele brands are offering decent ukuleles in 50$ too.
Well, if you are thinking to go below 50$ range, most likely you are going to waste your investment. Because cheaper ukuleles will go out of tuning very soon and you will not be able to play your favourite ukulele songs.
2.
Ukuleles have an Amazing Design
Ukulele is a love of many musicians because of its unique and catchy designs. I love ukuleles because of their colours. You can find them in solid and as well as in funky colours.
Ukuleles are great for many of your senses. Their beautiful colours and designs soothe your eyes, their perfect and calm sound sweetens your ears. Not only your ears are happy, you feel the happiness and joy inside of you too.
When your hands touch the strings and play different songs, you feel an unmatchable pleasure.
Many ukuleles come with colour and vibrant prints and I am a die heart fan of these ukuleles. Because they add more colours to my funky personality and help me to enjoy more and appreciate life when I am playing the ukulele on a beach in springs.
If you are an art lover or a passionate traveller, you can get ukuleles with historical places printed on them.
Also Read: Best Ukulele Brands
3.
Ukuleles 're Portable
Ukuleles are easy to carry because of their lightweight. You can find ukuleles coming in different sizes and shapes and are perfect instruments for people of different ages. Either you want to teach music to your kids or you are looking for a cool and easy to carry an instrument for your parents or grandparents, you can consider ukuleles.
If you are a traveller who loves to play music on beaches, mountains, deserts, plains, etc, ukuleles perfect because of their portability. You can perform on the streets without any hassle. But remember, you need to buy a case for ukuleles as they don't fit in your pocket.
4.
They are Adaptable
With ukulele, you can explore thousands of songs of different cultures. Playing many modern songs with the ukulele is not only fun but an easy feat too. You might be thinking why is it so?
Well, the simple answer is ukulele's adaptability. You can simply pair down and adapt many songs on the instrument. You will have seen many bands using ukuleles while performing covers of the famous songs and you got it right. Because ukulele is the number 1 choice to simplify and adapt songs from other musicians and singers.
If you are learning singing recently or looking for an instrument to show your inner musician to the world, playing the ukulele can help you to sing many easy songs. You can adapt your favourite melody to the ukulele, just surf the internet and find the right ukulele lessons from many free sources.
If you want to explore songs of different cultures or simply want to do covers of many modern songs for your YouTube channel, try exploring ukuleles.
Read: Best 10 Songs To Play on Ukulele
5.
Ukulele is full of fun and friendly
Ukuleles are great fun and an excellent instrument to explore different types of music such as classical, medieval, folk and much more.
With ukulele, you can feed your inner musician with different tones and music.
If you just want to get rid of your negative energies or simply want to relax, this low-pressure instrument is a way to go. With ukuleles, you can have many moments of enjoyment and even it can make your special moments memorable forever.
You can make a career out of it or you can simply enjoy ukulele as a hobby to stay sane. It's all up to you, my musical friend.
6.
You can attract new friends
With ukulele, you can impress people around you. Imagine when you are going outside with your ukulele, people will get curious about this small instrument.
They will ask you about it and conversations will start and conversations will turn into friendships and may friendship turn into love. Who knows?
Well, I think I need to turn off my imagination mode and make valid points here. By the way, friendships can turn into lucrative business opportunities too. Well, sorry music enthusiasts, I am hopeless and cannot give up on imagination. A very artistic and musical thing 😉 Is it not?
Well, on the practical note, you can be a cool guy among your friends and family as the ukulele can help you to be more sociable. If you are an introvert still, the ukulele can be a great partner for your solitude. A win-win situation.
7.
Ukulele is Easy to Remember
From the very beginning of the blog post, I have been telling you that ukuleles are easier to learn even for kids and senior citizens. But what exactly makes them easy instruments. Strings? Size?
Stop guessing! Let's explore the science.
Ukuleles are easy to learn because of their strings. Yes, strings. Ukuleles come with only 4 strings and guitars have 6 strings. To master different chord shapes of the guitar, you can take months. With the ukulele, you can use your single finger to play the different difficult chords. This makes it really easy to learn the ukulele and memorize the chords while saving your time.
8.
Ukuleles are great for exploring other instruments too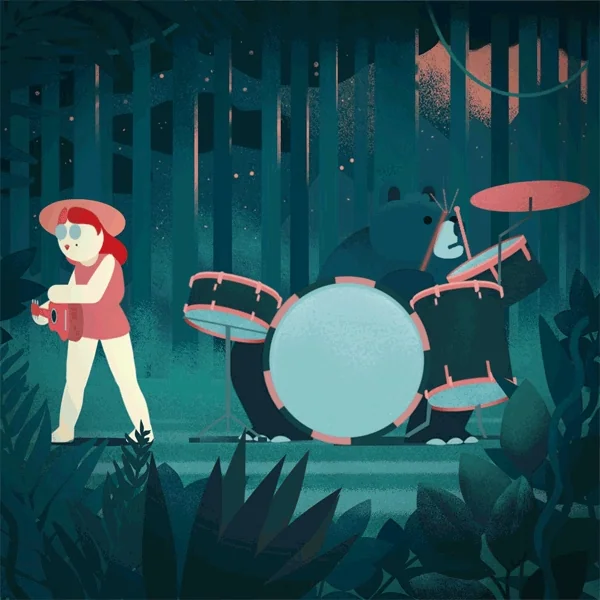 I know now you all know that ukuleles are easier to learn and you can master them with a small consistent effort. But you don't want to put your musician into easy and lazy mode and want to explore complex instruments.
I am not suggesting you going easy either. All I am trying to tell you is that learning ukulele first will help you a lot later.
Like you want to explore violins, go for it. But before directly jumping into learning a violin is not a great idea.
Learn ukulele first to understand how string instruments work then you can switch to the violin. In this way, you will learn the violin quickly as many stringed instruments operate in the same fashion.
9.
Be a part of an amazing ukulele community
Playing the ukulele not only makes you cool in your circle but you get a chance to join an amazing community of ukulele enthusiasts online and offline internationally.
This amazing community will not only help you in learning ukulele but explore different musical cultures of the world too.
10.
Ukulele is easy to maintain
Ukuleles are not only affordable but they are very easy to maintain too. You don't need to put much effort and time into their maintenance.
With ukulele, there is no much stress of maintenance as it is a simple instrument. You can also restring it very easily.
Conclusion
Either you learn the ukuleles or not, you cannot deny how awesome and amazing this tiny instrument is. Many famous musicians and singers have been using this magical instrument in their popular hits of modern music.
Ukuleles are lightweight, portable, easy to learn and maintain, so a perfect choice for kids and even adults too.
You can relax your mind by playing the ukuleles and have a very cool hobby. But if you want to take it professionally, then you can make a career out of it. Because this versatile instrument can be used in different types of music.